Ribal Al-Assad addresses Instituto Atlántico de Gobierno
Lunes, 25 Abril 2016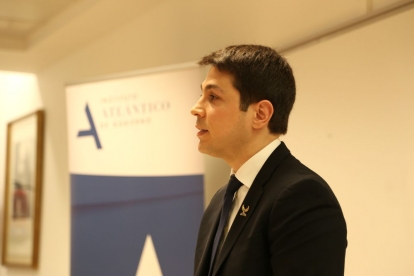 IMAN Chairman Ribal Al-Assad today addressed the Instituto Atlántico de Gobierno (IADG) with a speech entitled "Syria, the Middle East, and the Global Threat of Islamic Extremism." Ribal spoke about the ongoing crises in the Syria and the Middle East as well as the ways in which regional and global powers were both affecting and being affected by these conflicts.
The Instituto Atlántico de Gobierno is an academic institution created with the aim of promoting the study and learning of expertise on public policies and functioning of the institutions, by offering academic excellence.
IADG sits on an ideology rooted in upholding the rule of law, liberal and representative democracy, human rights, open society, market economy, Atlantic values ​​and reformism. It is also strongly committed to public service and the common good.
Launched by José María Aznar, the Institute is advised by the Academic and Social Council , which includes leading figures of the political, academic, economic, cultural and social environment of Europe and Latin America.
The Atlantic Institute of Government is linked to the academic career that José María Aznar has continued since he left the Prime Minister in 2004. In this period has been Distinguished scholar at Georgetown University for seven years and, since 2001, leads the Atlantic Basin Initiative of Johns Hopkins University, which is distinguised fellow.
Más artículos de noticias »