IMAN Chairman condemns Orlando terror shooting
Lunes, 13 Junio 2016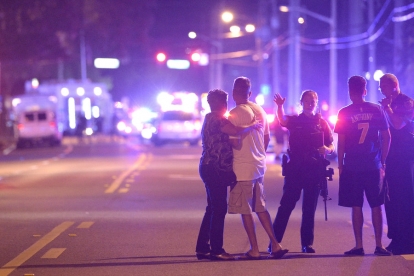 CNN
An American-born man who had pledged allegiance to ISIS gunned down 49 people early Sunday at a gay nightclub in Orlando, the deadliest mass shooting in the United States and the nation's worst terror attack since 9/11, authorities said.
There has been no claim of responsibility for the attack on jihadi forums, but ISIS sympathizers have reacted by praising the attack on pro-Islamic State forums.
"We know enough to say this was an act of terror and act of hate," President Obama said in an address to the nation from the White House.
While the violence could have hit any American community, "This is an especially heartbreaking day for our friends who are lesbian, gay, bisexual or transgender," he said.
Omar Mir Seddique Mateen was born in 1986 in New York. Most recently he lived in Fort Pierce, about 120 miles southeast of Orlando. Fearing explosives, police evacuated about 200 people from the apartment complex where he lived while they looked through his residence for evidence.
Mateen's parents, who are from Afghanistan, said he'd expressed outrage after seeing two men kiss in Miami, but they didn't consider him particularly religious and didn't know of any connection he had to ISIS.
Commenting on the news, IMAN Chairman Ribal Al-Assad said:
"I am heart-broken to hear that the people of the United States have been subjected yet again to the vicious hatred and intolerance of Islamic extremism. It is clear that the killer in Orlando was motivated by the same perverted and poisonous ideology that has driven other similarly evil people to kill of hundreds of thousands of innocents around the world.
"There is no place in the world for the people who support this ideology. They have no respect for the sanctity of life and they will not stop until they achieved their goal of an Islamic Caliphate under Sharia law. Orlando was not the first atrocity to demonstrate this sad fact, and unfortunately it will not be the last.
"I truly hope that the people of the United States will recognise the grave danger that they are facing. The vicious ideology that motivated this heinous attack is not unique to Islamic State, and it is not confined to the Middle East. This twisted ideology is shared by many other Islamist extrimst groups such as al-Nusra, Ahrar Al-Sham, Jaysh Al-Islam, the Muslim Brotherhood and many others, and is spread as much by these jihadist groups as it is by clerics funded and sheltered by countries like Saudi Arabia and Qatar, which allow them to broadcast their hatred over satellite TV channels and the internet.
"If we are to truly end the problem of Islamic extremism, we must tackle the problem at its roots. This means that we must go after all extremists groups; it is not good enough to simply bomb Islamic State, because they are only a symptom and not the cause of this disease. We must also hold all those states and individuals who fund, incite, and shelter terrorists to account. This includes those whom we call allies.
"At this terribly sad time, I send my deepest condolences to the friends and families of the victims and pray that in time their pain will heal. I also urge the government of the United States to recognise Islamic extremism for what it is: the greatest threat to the world since the Nazis."
Más artículos de noticias »