Sputnik News: 'Turkey Should be Kicked Out of NATO Over Support of Extremism - NGO'
Friday, 4 December 2015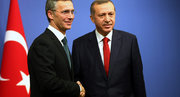 The Chairman of an NGO dedicated to tackling extremism has accused Turkey of backing groups that seek to "create an Islamic State all over the world, not just in the Middle East."
WASHINGTON (Sputnik), Leandra Bernstein — Turkey should not be a member of NATO in light of the country's ongoing support for Islamic extremists, Iman Foundation Chairman Ribal al-Assad told Sputnik.
"Turkey should not be part of Western alliance, or NATO. It is the most dangerous country… they are supporting those groups who have become the greatest threat to our national security," he said.
Ribal Assad, whose organization is based in London, explained the support for Islamists "is exactly what Turkey has been doing." He added that Turkey backed groups who "want to create an Islamic State all over the world, not just in the Middle East."
The Syrian president himself has accused Turkey of providing troops, weapons, intelligence data and financial support to Syrian militants while buying smuggled oil from the Islamic State jihadist group (known as Daesh in the Arab world).
An undated still image taken from a video made available by the Russian Defence Ministry in Moscow, Russia December 2, 2015, shows the Turkish-Syrian border crossing. Russia's defence ministry officials displayed satellite images on Wednesday which they said showed columns of tanker trucks loading with oil at installations controlled by Islamic State in Syria and Iraq, and then crossing the border into neighbouring Turkey
Mowaffak Rubaie, an Iraqi lawmaker and former national security adviser, told Sputnik last week Daesh sold $800 million of oil on the Turkish black market.
In a briefing on Wednesday, the Russian Defense Ministry provided satellite images showing Daesh, outlawed in Russia, transporting up to 200,000 barrels of oil in at least 1,722 trucks to third-party countries, most notably Turkey on the northern border.
On Thursday, President Vladimir Putin in his address to the parliament said Russia was aware who in Turkey was earning money from the stolen oil and recruitment of fighters, adding that no contacts or business with terrorists should be allowed.
Read more: http://sputniknews.com/politics/20151204/1031251839/turkey-daesh-oil.html#ixzz3tXrEkw8v
More news articles »