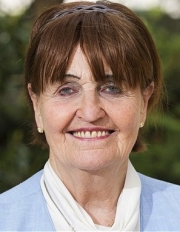 The Baroness Cox of Queensbury
Baroness (Caroline) Cox was created a Life Peer in 1982 and was a deputy speaker of the House of Lords from 1985 to 2005.  She was Founder Chancellor of Bournemouth University; Chancellor of Liverpool Hope University from 2006-2013 and is an Hon. Vice President of the Royal College of Nursing.   She was a founder Trustee of MERLIN [Medical Emergency Relief International] and is Chief Executive of HART [Humanitarian Aid Relief Trust].
Caroline Cox has been honoured with the Commander Cross of the Order of Merit of the Republic of Poland; the Wilberforce Award; the International Mother Teresa Award from the All India Christian Council; the Mkhitar Gosh Medal conferred by the President of the Republic of Armenia; and the anniversary medal presented by Lech Walesa.  She has been awarded an Honorary Fellowship of the Royal College of Surgeons of England and Honorary Doctorates by universities in the United Kingdom, the United States of America, the Russian Federation and Armenia.
Her humanitarian work takes her to conflict and post-conflict zones, including the Armenian enclave of Nagorno Karabakh, Sudan, South Sudan, Nigeria, Uganda, the Karen, Karenni, Shan and Chin peoples of Burma. Previously, she visited communities suffering from conflict in Indonesia, helping to establish the International Islamic Christian Organisation for Reconciliation and Reconstruction (IICORR) with late former President Abdurrhaman Wahid. She has visited North Korea to promote Parliamentary initiatives and medical programmes.
Two biographies have been published by Monarch/Lion Hudson: The Baroness Cox: Voice for the Voiceless, by Andrew Boyd and The Baroness Cox: Eyewitness to a Broken World by Lela Gilbert.