IMAN Chairman condemns Nice lorry attack
星期六, 16 七月 2016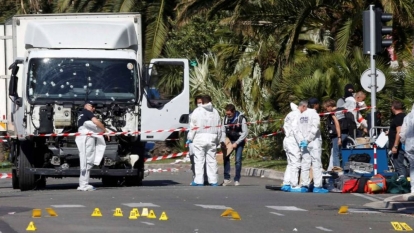 'Attack on Nice: Five held by French Police'
BBC
Five people believed to be linked to the man who killed 84 people in Nice are in police custody, the Paris prosecutor's office says.
Three arrests were made on Saturday and two on Friday, Le Monde reported.
Mohamed Lahouaiej-Bouhlel drove a lorry through crowds marking Bastille Day on the Promenade des Anglais on Thursday before he was shot dead by police.
So-called Islamic State claims the lorry attack was carried out by one of its followers.
A news agency linked to the group, Amaq Agency, said: "He did the attack in response to calls to target the citizens of the coalition that is fighting the Islamic State."
French President Francois Hollande will chair crisis talks later.
Mr Hollande, who says the attack was a terrorist act, has already extended a state of emergency by three months.
Prosecutors said Tunisian Lahouaiej-Bouhlel drove the lorry 2km (1.2 miles) along the promenade targeting people.
Ten of the dead were children. Some 202 people were injured; 52 are critical, of whom 25 are on life support.
Stephanie Simpson, communications director at the Lenval foundation for children in Nice, said five children remained in critical condition, one was in a "very bad" condition, three were on artificial respiration, one has been stabilised and one eight-year-old child remains unidentified.
At the meeting with the security chiefs, Mr Hollande is expected to review all options in response to the attack.
A state of emergency has been in place across France since November's Paris attacks carried out by militants from the so-called Islamic State group, in which 130 people died. It had been due to end on 26 July.
Some 30,000 people were on the Promenade des Anglais at the time of the attack, officials said.
Residents of Nice and foreign tourists were killed, among them four French citizens, three Algerians, a teacher and two schoolchildren from Germany, three Tunisians, two Swiss, two Americans, a Ukrainian, an Armenian and a Russian.
Responding to the news, IMAN Chairman Ribal Al-Assad made the following statement:
"I am utterly appalled and sickened by this atrocious violence. My heart bleeds for all of the innocents that have been killed or injured in the attack, and my thoughts and prayers go out to the friends and families of the victims.
"In particular, I am heartbroken for the many children who were killed and injured. I am also sorry for those who have had to witness this terror. They should have been enjoying the fun and fireworks of Bastille Day, not screaming and running for their lives. Their innocence has forever been stolen from them. This event is a genuine horror story, the scars of which the survivors will have to bear for the rest of their lives.
"In the wake of terrible incidents such as this, the world needs time to grieve. But it also needs to act. Everywhere we look, the forces of hatred, sectarianism and violence are gaining ground. The cancer of Islamic extremism is spreading and making the whole world sick. For this was not just an attack on France: Algerians, Tunisians, Swiss, Americans, Ukrainians, Armenians, Russians and many others were all victims of this attack. This was an attack on the entire world.
"The international community needs to recognise that Islamic extremism threatens us all. We must put our disagreements aside and unite to tackle this danger with our combined will and strength. We should not focus on a brand name like Islamic State or al-Qaeda, but on the underlying ideology which is the root cause of the problem.
If we do not do this, the poisonous and perverted ideology that inspires these appalling acts of terror will continue and all of our efforts against these brutal terrorists will have been in vain.
"We must tackle this issue at its roots and hold all those states, groups and individuals who fund, incite, harbour or otherwise support terrorists to account and bring them to justice. In particular, we must stop turning a blind eye to the activities of our so-called allies, who continue to spread sectarian hatred and violence throughout the Middle East and the rest of the world on a daily basis.
"The time to hold the enablers of terrorism to account is now, before it becomes too late."