More must be done to help Afghanistan, IMAN Chairman says
Samedi, 23 juillet 2016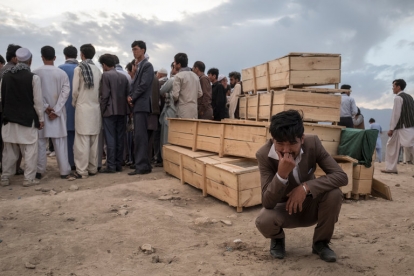 'Kabul explosion: Islamic State 'admits attack on Hazara protest''
BBC
So-called Islamic State has said it was behind an attack on a protest march in the Afghan capital, Kabul, that killed 80 people and wounded 230.
The IS-linked Amaq news agency said two fighters "detonated explosive belts at a gathering of Shia" in Kabul.
The attack in Deh Mazang square targeted thousands from the Shia Hazara minority who were protesting over a new power line, saying its route bypasses provinces where many of them live.
The Taliban have condemned the attack.
Spokesperson Zabiullah Mujaheed sent an e-mail to the media saying they were not behind it.
Self-styled IS has a presence in eastern Afghanistan but has not previously admitted carrying out assaults in the capital.
An Afghan intelligence source told the BBC that an IS commander named Abo Ali had sent three jihadists from the Achen district of Nangarhar province to carry out the Kabul attack.
The interior ministry said only one attacker had successfully detonated an explosives belt. The belt of the second failed to explode and the third attacker was killed by security forces.
IMAN Chairman Ribal Al-Assad condemned the bombing.
"This violence has to stop," he said. "I condemn in the harshest terms this senseless killing and send my thoughts and prayers to those who have been wounded or lost loved ones in this attack.
"The people of Afghanistan have suffered too much for too long. With the help of the international community, however, I am sure Afghans will be able to overcome the scourge of terrorism and sectarianism.
"Before this can happen, however, the international community must recognise the danger that Islamic extremism poses to the world and put aside their differences in order to confront this threat.
"While military action is necessary, it is by no means enough. More must be done to rebuild Afghanistan and support the democratic and secular forces in the country.
"We must give future generations hope for a better future. This requires schools, universities, hospitals, and functioning infrastructure. If only a fraction of the money that the international community has spent on warfare to build these things, the men and women of Afghanistan would be much more empowered to tackle and destroy the regressive forces now assailing them.
"When ordinary people feel that they have a stake in their country, and believe that their country has a future, they will be all the more engaged in defending their country from Islamic extremists instead of fleeing along the migrant routes to Europe.
"We therefore should work to concentrate our efforts on helping the people of Afghanistan to help themselves, through development and education. This is the only way the country will find stability and peace."
Autres articles sur les actualités