IMAN Foundation holds fifth Advisory Board Dinner
Tuesday, 7 April 2015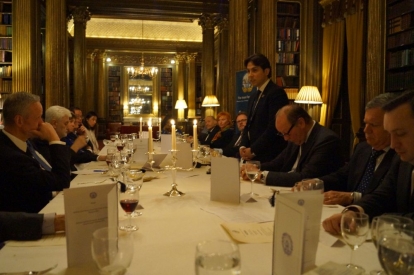 The Iman Foundation's highly distinguished International Advisory Board held it's fifth Advisory Board dinner at the Reform Club in London this week.
The meeting was opened by Ribal Al-Assad, Chairman of the Iman Foundation, and members were updated on the work of the Foundation over the past six months.
There was also an excellent discussion on how to counter the current extremism and sectarianism in the Middle East and North Africa, especially in light of recent events in Syria and Iraq.
Members of the Board who attended included:
The Hon. Bertie Ahern
Former Taoiseach (Prime Minister) of Ireland
The Hon. Halldor Asgrimsson
Former Prime Minister of Iceland
The Hon. Mirko Cvetkovic
Former Prime Minister of Serbia
The Hon. Cyril Svoboda
Former Deputy Prime Minister of the Czech Republic & Foreign Minister
Rt Hon. Lord Hamilton of Epsom
Conservative Peer, former Minister for Defense in both Thatcher and Major governments
Prof. Cynthia Schneider
Former US Ambassador to the Netherlands and Professor at Georgetown University
Jean-Louis Bruguiere
Leading French Magistrate in charge of Counter-Terrorism
Kristiina Ojuland
Former Foreign Minister for Estonia and former MEP who sat as a member of the EU Foreign Affairs Committee
Frank Hienrich MP
CDU member of the German Bundestag and member of both the Development and Human Rights committees
Marty Martin
Former NSA and expert on counter-terrorism
James Clad
Former US Dep. Secretary for Defense for Asia, senior advisor at the Center for Naval Analyses
Dr. Xiao Wunan
Executive Vice Chairman of Asia Pacific Exchange and Cooperation Foundation (APECF)
Patti Boulaye
Award winning international singer and Ambassador for Peace
Ralph Land CBE
Eastern European specialist
Yasmin Allawi
Presenter for Toward Freedom TV and Iraqi parliamentary candidate
Mili Gottlieb
Film maker and global advocate for social justice
Potkin Azarmehr
Award winning journalist and campaigner
Stephen Jones
Iman Foundation Executive Committee
Starbuck Coleman
Iman Foundation Executive Committee
More events articles »