Iman Chairman meets with former Japanese Minister of Defence, Yuriko Koike
Thursday, 30 July 2015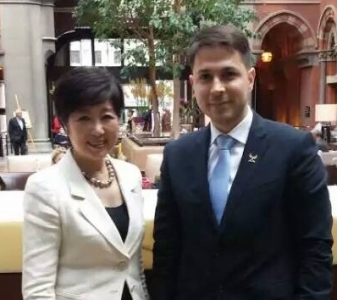 IMAN Chairman Ribal al-Assad has met with former Defence Minister of Japan, Yuriko Koike, during her recent visit to London.
During their meeting, Ribal and Ms. Yuriko discussed the continuing turmoil in the Middle East and the need to support and manage the Syrian refugee crisis.
Ribal expressed his sympathies for the families of Japanese nationals, Haruna Yukawa and Kenji Goto, who were brutally murdered by Islamic State militants earlier this year. He also relayed his gratitude to the Japanese parliament and people for their ongoing efforts to promote peace and prosperity in the Middle East region and for their generous assistance for Syrian refugees.
Ribal and Ms. Yuriko both agreed that the danger of extremism was growing, and that it threatened not only countries in the Middle East but also Japan and the world at large.
Yuriko Koike is a Japanese politician and former Defence Minister of Japan. She is currently a Liberal Democratic Party member for the House of Representatives of Japan.
More events articles »