Former Culture & Foreign Ministers join Iman's Advisory Board
Sunday, 20 January 2013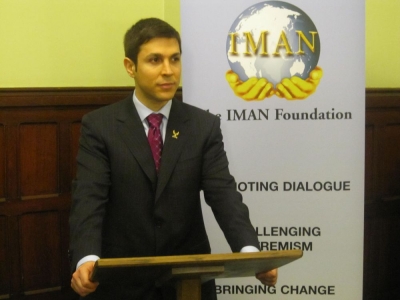 Former Culture & Foreign Ministers join Iman's Advisory Board
A prominent former culture minister of Luxembourg and the distinguished former foreign ministers of Bulgaria, Georgia and Bahrain have joined the Iman Foundation's International Advisory Board. They are joined by six other new eminent members, Bulgaria's former Deputy Minister in the Ministry of Justice, a prominent Turkish MP, a former Adviser to India's National Security Council, a leading Romanian academic, a world famous Hollywood actor and an award winning international singer.
The new board members are:
The Hon. Erna Hennicot-Schoepges (Luxembourg)
Ms. Erna Hennicot-Schoepges is a former Luxembourg Member of Parliament, Minister of Culture and Religious Affairs and member of the European Parliament. She was the rapporteur to the European Parliament for the "European Year of Intercultural Dialogue, 2008."
The Hon. Dr. Soloman Passy (Bulgaria)
Dr. Soloman Passy is the Founder & President of the Atlantic Club of Bulgaria and the former Foreign Minister of Bulgaria (2001-2005).
In 1990, Dr Passy MP launched a Parliamentary Bill to withdraw Bulgaria from the Warsaw Pact and join NATO. He has been dedicated to this cause for 14 years and in his capacity of a Foreign Minister he succeeded in negotiating Bulgaria's invitation (2002) and accession to NATO (2004). In 2009 he was nominated by the Bulgarian Government for Secretary General of NATO
The Hon. Eka Tkeshelashvili (Georgia)
Mrs. Eka Tkeshelashvili is President of the Georgian Institute for Strategic Studies. Mrs. Tkeshelashvili is Georgia's former Vice Prime-Minister, Foreign Minister and State Minister for Reintegration, where she oversaw the implementation of state policy towards the occupied territories of Georgia and the national policy on minority integration.
She previously served as the National Security Adviser to the President of Georgia/Secretary of the National Security Council of Georgia heading the National Strategic Review Process
The Hon. Dr. Nazar Al Baharna (Bahrain & United States of America)
Dr. Nazar Al Baharna is Bahrain's former Minister of State for Foreign Affairs (2006-2011) and is currently a Visiting Scholar Researcher at Georgetown University, Washington DC. He completed both his Bachelor's and Master's Degrees in Mechanical Engineering at the University of Petroleum & Minerals in Saudi Arabia. Dr. Al Baharna also holds a Doctorate from the University of Wales, United Kingdom.
The Hon. Maria Serkedjieva (Bulgaria)
Mrs. Maria Serkedjieva is Bulgaria's former Deputy Minister in the Ministry of Justice and European Legal Integration (1997- 2001), who was in charge of the European legal integration, international legal co-operation and harmonization of the Bulgarian legislation with the European acquis communautaire.
Prof. Dr. Yusuf Ziya Irbec (Turkey)
Prof. Dr. Yusuf Ziya Irbec is an economist, foreign policy specialist and academic. He currently serves as a Member of the Turkish Parliament for Antalya since 2007 and an Executive Board Member of the Parliamentarians for Global Action (PGA)  in which he is the Deputy Convenor of Peace and Democracy Program.
He served in the Turkish Parliament as Member, Clerk Member and Vice-Chairman of the European Union Harmonization Commission. He also served as a Member of the Joint Parliamentary Committee of the European Union.
The Hon. Professor Brahma Chellaney (India)
Professor Chellaney is an Asian geostrategist and widely regarded as one of India's leading strategic thinkers. He presently is a professor of strategic studies at the Centre for Policy Research in New Delhi; a fellow of the Nobel Institute in Oslo; a trustee of the National Book Trust; and an affiliate with the International Centre for the Study of Radicalization at King's College London. He has served as a member of the Policy Advisory Group headed by the foreign minister of India. Before that, he was an adviser to India's National Security Council, serving as convener of the External Security Group of the National Security Advisory Board.
Prof. Dr. Ovidiu Pecican (Romania)
Prof. Dr. Ovidiu Pecican is vice-dean of the Faculty of European Studies from Cluj-Napoca, Romania (Europe). He is a professor and has a Ph.D. degree in history. He is a member of the National Council of the Union of Writers in Romania, and has published several novels, short stories volumes, theatre plays, poetry and literary critiques. He is a weekly columnist for Romania Libera (Free Romania) national journal since 2006 on current political issues, in Observator cultural (Cultural Observer) on history books and in Tribuna (The Tribune), Steaua (The Star) and Apostrof (The Apostrophe) on recent literary and philosophy publications.
Jsu Garcia (United States of America)
Jsu Garcia is a world famous Hollywood actor, known for his roles in films including, Che Guevara, The Cotton Club, Wildcats, Vampires in Brooklyn, Candyman III: Day of the Dead, Predator 2 and the Oscar-winning Traffic. One of the most important aspects of Garcia's life is his work and service to his friend and spiritual teacher John-Roger and to their work in Peace Awareness Trainings through the Peace Theological Seminary and College of Philosophy (PTS). Together they have traveled to more than twenty countries over for Peace Awareness Trainings, bringing peace to all cultures and lands, including troubled areas such as Egypt and Israel.
Patti Boulaye (United Kingdom)
Patti is an award winning International Star, Singing for Royal families including HM The Queen, ​The Aga Khan, HRH Princess Margaret, HRH Prince Charles, HRH Princess Diana, Dukes and Duchesses. She had been invited to 10 Downing Street under Sir John Major, Baroness Thatcher, Tony Bair and Gordon Brown. She grew up in a large family in Nigeria, lives in the UK and is married with two children.
Commenting on the new members, Ribal Al-Assad, Chairman of the Iman Foundation, said:
"I am delighted and honoured to have so many new distinguished people from across the world joining the Iman Foundation's advisory board. They bring a wealth of international experience of politics, diplomacy, academia and the arts, and are highly respected across the world for their work and achievements. We look forward to working with them all to bring greater understanding, co-existence, reconciliation and peace in the world."
More news articles »