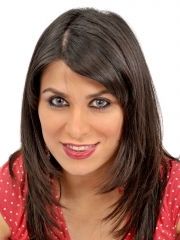 Dr. Halla Diyab (United Kingdom)
Vice-Chair
Dr. Halla Diyab is an Award-winning scriptwriter, producer, director and broadcaster who was born in the Middle East and now lives in the U.K., where she was educated.
Dr. Diyab's holds a MA in Gender and Women Studies from University of Warwick, UK. and a PhD in Drama on "the representation of minorities in the American drama and films from (1940-1980)".
In 2010 she was listed in Aliqtisadi Magazine as one of the most influential women in Syria. Her expertise ranges from TV presenting, to script and screen writing to producing bilingual (Arabic & English) documentaries and entertaining TV programs including soap operas, dramas, and cutting-edge social, historical investigations. She is also a commentator on British Muslims and Middle East issues in the UK media.
Dr. Diyab is the founder and director of Liberty Media Productions Limited, which primarily aims to bridge cultural differences by combining journalistic integrity, entertainment and cultural diversity to produce unforgettable cross-cultural TV experiences.